TECHNICAL TEXTILES FOR DECATISING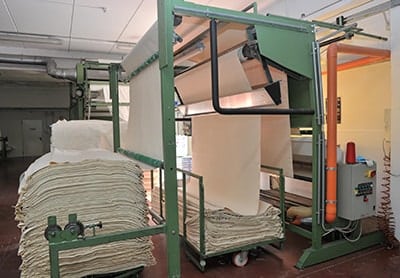 SATINS AND MOLLETONS WRAPPER

For more than 40 years we have been concerned with the design of very high quality satins and molletons wrappers.
In Trivero, in the province of Biella, since 1976 we produce satins and molletons wrappers for decatising, primary fabrics in the finishing process of wool and wool blend apparels. Decatising is the final finishing phase where the wool fabric is treated with a uniform steam passage. The result is the best "hand", dimensional stability to achieve an unquestioned final value.
The right answers for the professional of cloths
The favorable results obtained by Famas from the textile market, are the answer to every kind of question, asked by people who produce cloth and make a profession of cloth. An extra-fine fabric becomes a quality one when all the factors determining its value are brought together. Raw materials, design, workmanship, until the delicate finishing time with Famas undercloths, suitable for the treatment of any cloth, from carded to superfine. Famas customers have long included the company's quality into their own production processes.
By definition, selecting the best satin depends on the type of decatizing machine used and the product to be treated. Famas can also help in making this choice by identifying and advising on the most suitable product for long-term quality results. A positive sign therefore, destined to grow.
CONTROL AT THE HIGHEST LEVELS
Starting from the raw material, each step is checked and monitored because our fabric must be free of defects, can not be repaired, cut or mended.
Our wide range includes cotton/polyamide cotton/polyester/polyamide polyester/cotton satin for fabrics treated from carded to superfine. Different products to achieve different results. While the satin is more suitable for finishing men's fabrics, due to the pressed effect, the molleton is more suitable for the finishing of women's fabrics, or anyway where soft hand and opaque appearance is required